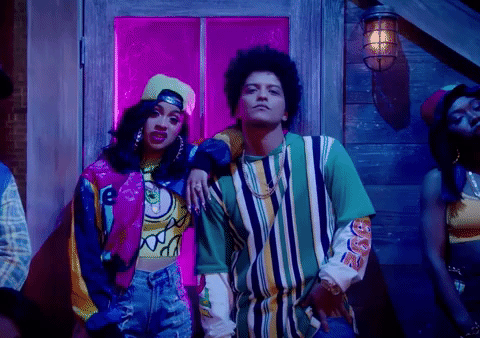 Today is a cheat, I already need a cheat day and it is day 4. I need to leave my house more, this place is sapping my energy. Anyway I just saw the video yesterday and I fell in love so today's item is the video for the song (and the song itself) "Finesse (Remix)" by Bruno Mars featuring the increasingly dope Cardi B.
I make money moves. – Cardi B
So if you have not seen the video get your life together, it is below. The song "Finesse" appeared on Bruno Mars' album "24K Magic" which unsurprisingly a banger. I love me some Bruno Mars. I have rules about short guys but I'd break 'em for him. Anyway I love how much fun he is, just smooth, and his voice is like butter. His appreciation for funk and R&B and soul speaks to my soul. His aesthetic is also super dope, fly as all get out.
Now Cardi's verse on this made me a believer, I felt like it was dropped back in the 90s and I was hearing the newest jam from a new artist. For me that is the highest compliment because I occasionally believe I was born 20 years too late, but also for her this is great because she gets a lot of crap for sounding like other female rappers and this felt uniquely her. I felt like a kid again wanting to learn the lyrics to rap part so I impress my friends at school the next day (the fact that I could do (and can still do) the Waterfalls rap is one of my valued life accomplishments). It was so dope and totally fit aesthetic.
The song itself was banger and is still a banger even he didn't make much in the ways of changes to it beyond Cardi's verse.
Now the video is a tribute to In Living Color. Now you see how I mentioned I was born 20 years too late, In Living Color used to be a part of that mental (slightly deluded) narrative. I, like many other young ladies, was hoping to be a Fly Girl when I got older. And much like a lot of my other media driven dreams and aspirations like going to Freaknik (Sister, Sister), the Love Parade (Chasing Liberty), attending a magical school (Harry Potter), this dream died as well because the show ended. When a possible revival was announced I was OD hype, Fly Girl dreams have died the death they deserve given that disastrous year I joined the step team in high school (Long story short – I struggle), but the show was still this dope aspect of black media history that gets forgotten sometimes. The Wayans were aspirational to me, the way they would feature artists, grow talent and still manage to maintain control of their brand and their content. So I love the show. When the video started I was just so happy. It matched the vibe of the song so well and it was great tribute down to the DJ yelling before Cardi B coming in towards the end.
The other dope part is that it was filmed in 60 fps. Now I am not well-versed in camera stuff but even I could tell and it looked good. It was very cool. Anyway I really enjoyed the video and it just about made my week. So here it is, I hope you enjoy it as much as I do.
One last thing, Bruno Mars got the flyest moves, like the flyest.